Next steps for Ryhope Doxford Link Road
The Ryhope Doxford Link Road (RDLR), now known as Rotary Road, has reached another key milestone as work on the second section comes to a close.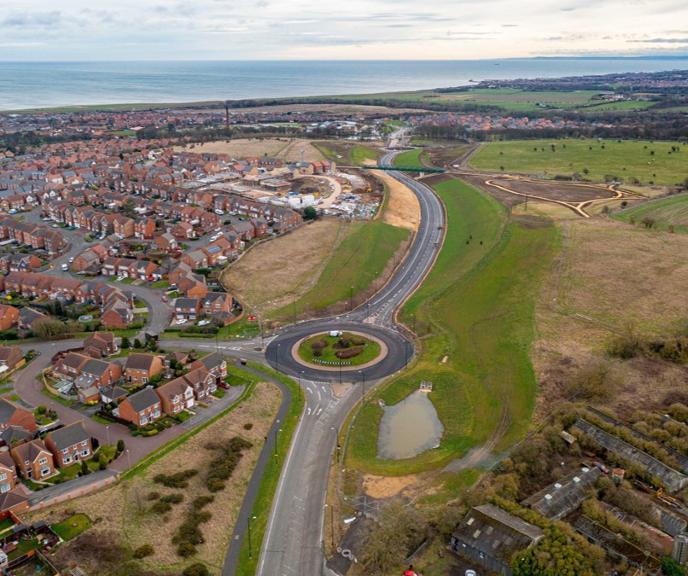 The new road, completed by Esh Construction, connects Ryhope to the A19, Tunstall and Doxford Park in the west and links Doxford Park to the Southern Radial Route, enhancing access from the City Centre to the A19 in the south.
Rotary Road is made up of three sections. The latest section is the second one to be complete, while one more section remains under construction.
Sunderland City Council's Cabinet Member for Dynamic City, Cllr Kevin Johnston, said: "The completion of this section of Rotary Road marks a significant step forward in our plans to complete infrastructure that will support the South Sunderland Growth Area. This will represent a large part of our city's future as we increase and broaden our housing stock and offer more residential choices in Sunderland."
Steven Garrigan, Divisional Director at Esh Construction, said: "The completion of Ryhope Doxford Link Road marks another great scheme delivered in partnership with the council to improve local infrastructure and transport links in and around the city.
"The project has involved a significant amount of bulk earthworks with more than 99,000m3 of rock and 48,000m3 of clay excavated and removed from site to pave the way for the new road.
"We committed to employing local throughout the project, as a result, 70% of operatives working on the scheme lived within 25km of site and a third of operatives reside in Sunderland."
For more information, visit: Construction of the Ryhope Doxford Link Road - Sunderland City Council
This video shows how the project has progressed:Rotary Road - YouTube