New reuse shop saves nine tonnes of treasured items from going to energy from waste in its first few weeks
A new reuse shop, which has saved more than 9 tonnes of treasured household items, clothing, toys and more from going to energy from waste in its first few weeks, has been officially opened at Sunderland's Household Waste and Recycling Centre.(HWRC)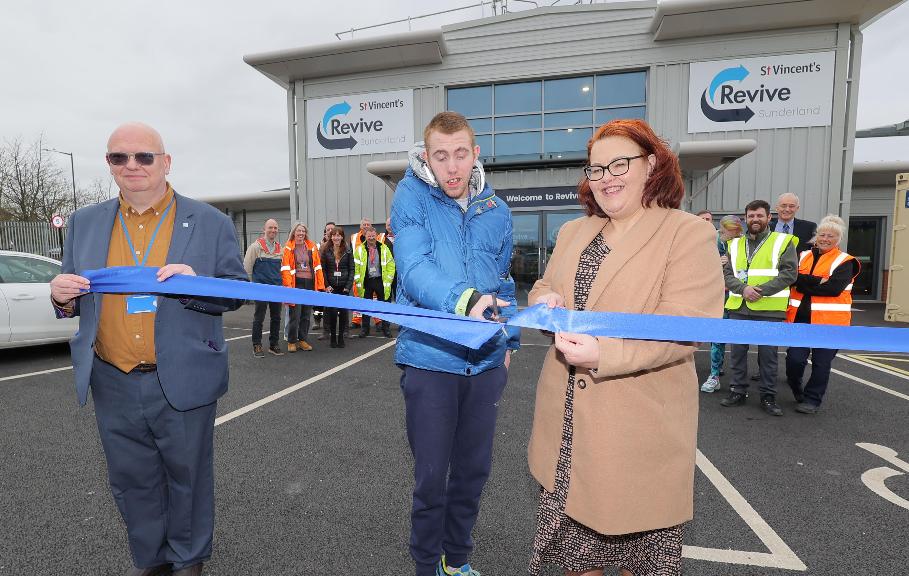 Sunderland City Council's decision to open a reuse shop at Pallion HWRC, where people can donate things they no longer need so they can be recycled and resold, is part of its commitment to being a clean green city.

The reuse shop, which is being operated by the St Vincent De Paul Society charity (SVP), opened to the public shortly before Christmas.

Since then it has saved more than 12,500 items from going to energy from waste with some of the more unusual donations including a brand new saxophone, quirky pottery and artworks and rare books.

Energy from waste involves using a high tech burning process to convert waste into electricity for the national grid.

Councillor Claire Rowntree, Deputy Leader and Cabinet Member for Clean, Green City at Sunderland City Council and Ian O' Hara, Head of Business Development at the St Vincent De Paul Society officially opened the shop with the help of Brandon Longsworth, who does work experience in the shop, at a ribbon cutting on Friday 3 March.

Councillor Rowntree, said: "It's brilliant to see clothes, toys and household items that people no longer have a use for being recycled and resold at affordable prices rather than going to energy from waste.

"It means that anyone having a clear-out can bring things they no longer need or have room for, to the re-use shop when they visit the household waste and recycling centre, instead of just throwing them out. It's also a real boon for people looking to pick up decent quality items at affordable prices, especially in the current cost of living crisis.

"We know that the environment is a key priority for our residents and this is a welcome addition to the recycling facilities already have on offer at the HWRC, which has been really popular since it relocated to our new state of the art centre in Pallion last February.

"I'm also delighted that we're partnering with the St Vincent De Paul Society and benefitting from their expertise in this area as part of our ongoing drive to make Sunderland a clean green city."

The official opening of the reuse shop comes just over a year after the council opened the £5m plus state-of-the-art Pallion Household Waste and Recycling Centre. The new HWRC replaced the previous one in Beach Street and was designed to provide bigger and better household waste and recycling facilities and to make it easier for residents to recycle and dispose of their waste.
Elizabeth Palmer, Chief Executive Officer of the St Vincent de Paul Society, said: "The opening of Revive Sunderland marks an exciting new partnership between the St Vincent de Paul Society and Sunderland City Council. This new reuse shop offers local people the opportunity to donate unwanted items, extending their life cycle, creates employment and helps to address local poverty through providing affordable goods. It also generates vital income for our work. Collaborations such as this benefit the local community and represent positive action in the fight against climate change and build a better world for everyone. We are very proud of this new venture and look forward to its growth and future success."
Prices at the reuse shop are kept deliberately low to ensure a high turnover of stock and the vast majority of clothes sell for just £1 an item which means they're sold and replenished quickly.

The shop accepts and sells a wide range of items including clothes, books, dvds, electricals, toys, homeware, furniture and lots of quirky items. It has also just opened a small garden centre selling garden furniture and ornaments.

It is open 7 days a week to shop or donate from 9.30 am until 4.30 pm and there is no need for a permit to shop or donate. All the proceeds go to the St Vincent de Paul Society which helps some of the most vulnerable people in communities.

The St Vincent de Paul Society is dedicated to tackling poverty and helping the most deprived people in society through their vital person-to-person support. This includes their befriending service, the provision of emergency food parcels, debt advice, and much more. A staggering 55,066 people were given material help or practical support between 2021 and 2022 by the Society's members, and the work they do will continue to support those who need it most.

For more information on the shop visit: www.sunderland.gov.uk/revive-sunderland