Old hospital makes way for new homes
Demolition work that will pave the way for new homes in Pennywell is underway.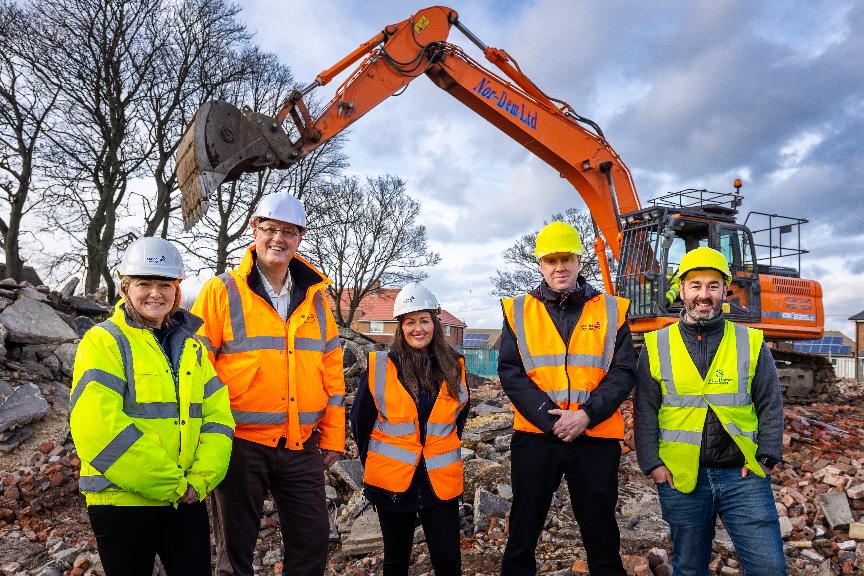 The former Havelock Hospital at the edge of Hylton Road is currently being flattened, and will be replaced by a small residential community, comprising 19 supported bungalows being developed by the Housing Development Team as part of Sunderland City Council's £59m Housing Delivery and Investment Plan (HDIP).
Construction is being led by Sunderland based MCC Homes Limited, who have signed a development agreement with the council to build the homes, which will support people living with disabilities.
Once the existing building - which went on to become the Alzheimer's Society before closing in 2019 - is cleared, work will get started on construction of the new homes, with the properties expected to be completed next year.
The development is being supported by Homes England and is part of a council-led plan to deliver more supported properties for vulnerable residents, more bungalows for people living with disabilities and older residents, as well as general use homes available for affordable rent. The bungalows - all one-bedroom homes - will complement existing housing for people at nearby St Clement's Court and ensure a more comprehensive, connected and efficient support service.
Councillor Kevin Johnston, dynamic city portfolio holder at Sunderland City Council, said: "It's brilliant to see the way being cleared for 19 new one-story homes, which will help us deliver more accessible properties for people living with disabilities in Sunderland.
"The scheme, which will see us working with Sunderland based MCC Homes Limited, will ensure we have the range of properties we need to support our more vulnerable residents to live in homes that are suited to their needs, and that enable them to live a happy, fulfilled life, as independently as possible."
MCC Homes Limited has delivered a range of developments for the council to date, including five bungalows in Elmwood Avenue, Southwick, and more recently the larger 'Arnay Court' development at Old Mill Road in Southwick. By working with Monkwearmouth based MCC Homes Limited, the council is supporting the firm to sustain and create jobs and opportunities for local people and businesses during its development.
Luke Lee, head of operations at MCC Homes, said: "We're proud to be moving forward with this scheme on behalf of the council. Each development this HDIP delivers with a local supply chain not only creates more high-quality homes attuned to the needs of residents in the city, but supports Sunderland firms to reinvest in local people and businesses, benefitting the city economy."
The Hylton Road scheme is part of an ambitious plan that has seen the local authority once again become a Registered Housing Provider, renting its first homes in more than 20 years. It has also begun a programme of construction - building its first new properties in 40 years -- including two schemes developed by MCC Homes - to create new housing stock that meets the needs of the city's residents.
Homes England has enabled the development with a £954,000 grant.
Andrea Taylor, senior manager at Homes England, said: "Despite the current challenges affecting the country, accelerating housebuilding remains our number one priority.
"We are committed to supporting the city of Sunderland who have ambitions to build new homes and our investment through affordable housing grant allows us to do that. We're delighted that this funding will enable Sunderland to deliver much needed new homes in the Sunderland area."
In its five-year HDIP, the council set out ambitious plans to ensure that residents have access to the homes they need as they grow older; that vulnerable residents are able to live in properties that support them to live independently for longer, in which they are supported to live happy, fulfilled lives; and that empty homes, that so often blight their community, are returned to use, creating attractive new homes for our residents.
The council's Housing Development Team will continue delivering the HDIP to provide a range of affordable rent homes across the city, including new accessible properties and supported housing.