Raising the Commonwealth Flag
The Commonwealth Flag was raised at City Hall on Monday 13 March to celebrate Commonwealth Day.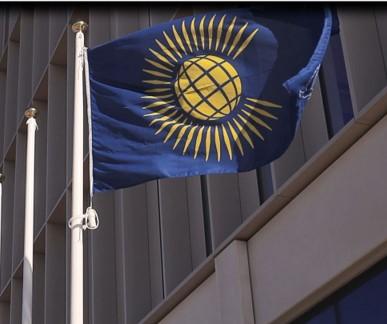 This year's 'Flag of Peace' flag features a white dove of peace in the bottom right-hand corner of the Commonwealth flag, to mark the tenth anniversary of the signing of the Commonwealth Charter which was signed by Her late Majesty Queen Elizabeth II on 11 March 2013.
The flag symbolises the shared values and principles of the Commonwealth, including co-operation on economic and social development, diversity, respect, friendship and the promotion of peace around the world.

The Mayor of Sunderland, Councillor Alison Smith, was joined by civic guests and the Mayor's Chaplain, Reverend Jennifer Bradshaw for the flag raising at City Hall.
Councillor Smith also read out a message from Commonwealth Secretary General the Rt Hon Patricia Scotland KC.
You can view a video of the Mayor of Sunderland reading a commonwealth message and raising the Flag of Peace at: https://youtu.be/sIBktTtaLuc