Mayor's photo blog - 2017
A photo blog of events the Mayor has attended and supported during the year in their post.
December 2017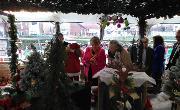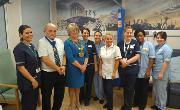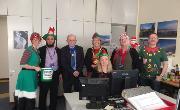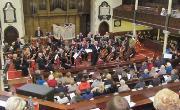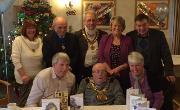 October 2017
Here I am marking the beginning of the Houghton Feast Festival 2017 by crowning the King and Queen of Eventide at Houghton Miners Welfare Hall.
Here I am opening the Houghton Feast Fairground to a group of Special Educational Needs children on Friday 6 October 2017. Each year the Showman's Guild kindly open the rides for free to these young children before the fair officially opens later in the evening.
Here I am leading the Civic Procession in to the Houghton Feast Civic Church Service at St Michael and All Angels Church on Sunday 8 October 2017.
Officially opening the newly refurbished Busy Bees Nursery on Monday 9 October 2017. A wonderful facility for the workers of Doxford International Business Park and local families to send their children to.
On Wednesday 18 October 2017 a special service took place in Castletown Cemetery for 94yr old resident, Mary Reid who since 1945, has looked after the war graves of German Soldiers who lost their lives during WWII.
Mary is pictured here in the Mayor's Parlour being presented with the Gold Cross of Honour of the German War Graves Commission by Military Attaché of the German Embassy in London, Colonel J Rütten.
September
Flying the Red Ensign for Merchant Navy Day on Friday 1 September 2017.
On Thursday 7 September 2017, the employees of Nissan Motor Manufacturing UK Ltd were awarded Freedom of the City of Sunderland in an Extraordinary Meeting of the council for their services to the Automotive Industry in Sunderland.
Battle of Britain Commemoration Service at the War Memorial on Burdon Road in Sunderland on Sunday 17 September 2017.
Really enjoyed the year 6 school children from St John Boste Primary School visiting me in the Council Chamber and Mayor's Parlour on Tuesday 19 September 2017.
Raising the City of Culture Bid 2021, flag at the Civic Centre on Wednesday 27 September 2017. Good luck Sunderland!
August
Officially opening the new Costa Coffee store in the City Centre on Thursday 10 August 2017.
Here I am having a tour of the Sunderland Maritime Heritage Musuem on Monday 21 August 2017.
I was thrilled to officially open the Cleadon Ward of Monkwearmouth Hospital on Friday 25 August 2017, a wonderful new unit to treat dementia patients in Sunderland.
Here I am at the Sunderland Voluntary Life Brigade's opening exhibition of the SS Ottercaps on Saturday 26 August 2017.
Visiting AMAP in Sunderland to meet some work placement students from one of our twin cities of Saint-Nazire in France on Wednesday 30 August 2017.
July
Annual West Area Committee SEE Event in Barnes Park on Saturday 1 July 2017 which was themed around science, environment and engineering.
Annual American Independence Day celebrations at Washington Old Hall on Tuesday 4 July 2017.
Here I am in the Mayor's Parlour on Friday 7 July 2017 being presented with a signed framed photo of HMS Ocean from its Captain, Commanding Officer Robert G Pedre as a sign of our affiliation with the ship.
I feel so proud to be have been part of HMS Ocean's final Freedom of the City Parade in Sunderland on Saturday 8 July 2017. This is the after reception and capability demonstration on board the ship.
What a great turn out I had for my Civic Sunday Church Service at St Cuthbert's Church in Redhouse on Sunday 9 July 2017.
I was honoured to host Sunderland's first flag raising ceremony in remembrance of Srebrenica on Tuesday 11 July 2017.
Another fantastic turnout at the Annual Air Show Weekend for Sunderland which took place between Friday 21st and Sunday 23rd July 2017.
June
Meeting with staff at the Phoenix Unit of Sunderland Royal Hospital on Friday 2 June 2017. The Phoenix Unit are one of my chosen charties for 2017-2018.
The official opening of the Active Sunderland BIG BIKE RIDE on Sunday 11 June 2017, what a fantatsic turnout we had.
Here I am at the Year 11 students Leavers Assembly held at Red House Academy on Wednesday 14 June 2017.
Here I am at the burial of a time capsule at Hylton Castle prior to transformation work taking place, The Hylton Castle Project is a project very close to me heart.
What a great turn out at my first fundraising event at the Stadium of Light on Tuesday 20 June, the SAFC Summer Tour & Cream Tea raised over £600 for my charities.
Raising the Flag in support of Armed Forces Day on Wednesday 21 June 2017 alongside Mr Frank Major, Deputy Lieutenant for Tyne and Wear.
On Thursday 22 June 2017 I unveiled a Blue Plaque for John Murray alongside Jack Curtis. This was combined with a 300th Anniversary Celebration of the River Wear Commissioners.
May
Annual Council and Mayor Making Ceremony on Wednesday 17 May 2017 being inagurated in to office as The Right Worshipful Mayor of the City of Sunderland 2017-2018.
My first official engagement as Mayor was on Thursday 18 May 2017, opening the Job Show North East at the Stadium of Light.
A great turn out for our Civic 'At Home' Event held in the Pottery Gallery at the Museum and Winter Gardens on Saturday 20 May 2017. It was a very special afternoon.
This was taken at a Memorial Service to remember the 35th Anniversary of the Falklands War on Sunday 21 May 2017.