City pays its respects following the death of Her Majesty The Queen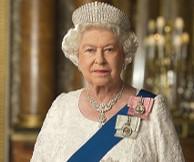 The Mayor of Sunderland has paid tribute to Her Majesty The Queen following her sad death at Balmoral on Thursday
Councillor Alison Smith, the Mayor of Sunderland, said: "I was deeply saddened to hear the news of Her Majesty The Queen's death.
"Her Majesty The Queen was a truly inspirational figure who was not only greatly loved and admired in this country but by millions of people around the world. I know that many people will want to pay their own personal tributes to someone who meant so much to so many.
"Sunderland has been privileged to welcome Her Majesty The Queen here on a number of occasions during her reign, most recently in 2012 when Her Majesty and His Royal Highness The Duke of Edinburgh visited the city during her Diamond Jubilee tour of the country and people turned out in their thousands to greet her.
"I know I speak for the people of this city when I say that she will be sadly missed and that our thoughts are with the rest of the Royal Family and all who knew and loved her at this very sad time."
Her Majesty The Queen became the longest reigning monarch in British History in February and celebrated her Platinum Jubilee in June this year.
Her Majesty The Queen and His Royal Highness The Duke of Edinburgh visited Sunderland a number of times during her 70 year reign.
Previous visits to the city include:
July 2012 - Beginning her Diamond Jubilee tour of the North East with a visit to a Royal Jubilee Exhibition at the Port of Sunderland charting the six decades of Her Majesty's reign.
November 2009 - Opening the new £19m Washington School.
May 2002 - Opening the newly restored Sunderland Museum and Winter Gardens and the new Metro line between Sunderland and Gateshead during her Golden Jubilee year.
December 2000 - officially opening Sunderland Royal's new £15m maternity unit.
May 1993 - Visiting Sunderland to commemorate the granting of City Status after it became England's newest city.
July 1977 - Visiting Austin and Pickersgill, Washington Wildfowl and Wetlands Centre, Washington Sports Arena and Seaburn during her Silver Jubilee year.
October 1954 - Making her first official visit to Sunderland as Her Majesty The Queen, accompanied by HRH The Duke of Edinburgh, as part of a whistle stop Coronation tour of Britain.
1946 - Making her first visit to the city while still a Princess. She visited the new Eye Infirmary and the James Laing shipyard to launch the British Princess.